Darci tells folktales, fairytales, ghost stories, personal stories and more, at schools, libraries and festivals. She has shared stages with some of the best-known storytellers in the nation.
SELECTED PERFORMANCE HIGHLIGHTS
National Storytelling Festival

Jonesborough, TN: Exchange Place teller 2022
Tejas Storytelling Festival

Featured Teller 2021, and regular performances since 2011
George West Storyfest

Featured Teller 2017
Timpanogos Storytelling Workshop

Performance and Workshop, 2015
National Storytelling Network Conference

Featured Regional Teller 2013
Colonial Williamsburg's "Spinning Stories, Spanning Time"

Teller & emcee  2006 – 2008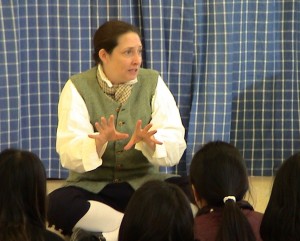 THAT'S MY STORY (Grades K to Adult, online or in person):
Listen, spellbound. Let your imagination roam. Darci can tailor programs to your needs, whether you need to meet state education standards or just want to relax and laugh. She tells Shakespeare stories, Greek mythology, fairy tales, folk tales from many cultures, personal stories about growing up, ghost stories and more. Email Darci.
STORYTELLING WORKSHOPS AND TRAINING (click titles for more information)
Storytelling Basics: Ages 8 – Adult

Learn the nuts and bolts of storytelling: outlining, word choice, performance skills, interactive techniques.
Details, Details…Descriptive Language Makes it Real: Ages 8 – Adult

Descriptive language can take a story from good to unforgettable. By being specific in your descriptions, you introduce a whole new pallette of color to your stories, giving them depth, vibrancy and immediacy; you help your audience picture the story you're telling, and make the characters more real to them. Bring a story to work on. Unlock your imagination, and watch that story bloom! 8 – Adult
Stepping Into the Story Through Character Interpretation: Ages 8 – Adult

Learn to portray the characters whose stories you tell, and watch your audiences become involved as they never have before! Character interpretation gives audiences the illusion of meeting people they never actually will. It is a powerful way to demonstrate the human impact of natural and man-made events. You don't need an acting background; you just need an active imagination. This workshop is aimed at teachers, museum professionals and historical re-enactors. It can also be a residency for students.
Storytelling in Museums: Adults

Museums tell stories. Whether the stories are about people, ideas or inventions, your visitors will enjoy their visits more if the information is presented in story form. Learn how to turn dry facts into memorable narratives that will bring your visitors back.
---
---