Darci has been training classroom and museum educators since 1995.  She has an extensive background in Colonial and Revolutionary-era Virginia history from 25 years of teaching history at the Colonial Williamsburg Foundation.  She is on the faculty of the Colonial Williamsburg Teacher Institute each summer, and was the Founding Director of the LEGACY character interpretation scholarship program at Bethel University in Tennessee.  She performs in schools nationwide, and is a frequent presenter at educators' and storytellers' conferences.  Her programs are designed to help teachers meet Common Core and State Standards. Her clients include:
* The State University of New York, Cortland, School of Education
* The Mount Vernon Teacher Institute
* Los Angeles County Office of Education
* Cal State Long Beach
* Alameda County Office of Education, CA
* Hillsborough County Office of Education, FL
* San Diego County Office of Education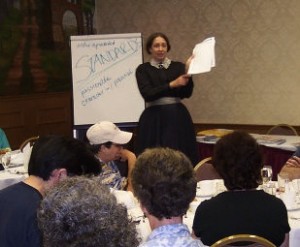 Acting Up: Character Interpretation in the Classroom:  Enhance student understanding and retention though biography-based teaching!  By looking at historical events through a specific individual's eyes, student interest and retention improves.  Portray people of the past, or teach your students to!
*Learn how to research, script and costume characters
*Involve special-needs students
One of the best workshops I've ever attended.  I will definitely use this!
Darci has inspired me to attempt role playing in my classroom.
I can't wait until school starts to begin this!
Inspirational – I CAN do this!
I want HER at my school!
Loved her!  I feel more confident about my ability to do role playing.
This is something that I would have been too nervous to try before this workshop.  Now, I feel that I have the  tools to be successful with it in my classroom!
Participants, 2009 Mount Vernon Teacher Institute
Storytelling in the Classroom:  Learn how to tell, and how to get your students to tell, and write, stories! Improve literacy, meet Common Core Standards and increase interest in the classroom, through fairy tales, folk tales, tall tales, anecdotes and personal stories.
"Everyone who attended your sessions is still raving – you provided guidance, creative ideas, and "things to ponder" – who could ask for more?"  Nancy Hayward, Director of Programs, George Washington's Mount Vernon Estate and Gardens
Teaching Literacy Through Primary Sources:  Kill three birds with one stone! Combine history/civics and literacy, and meet Common Core Standards  by using primary source documents to teach literacy. Learn valuable techniques to choose appropriate sources and edit more difficult ones, so that even basic readers can tackle historical documents and win.
"Many teachers told me that this was the best and most informative inservice workshop they had ever attended (and the most fun!)."       West Virginia Principal
Using Art as Primary Sources:  Primary sources include much more than written documents; objects, music, art and more.  Learn fun and interactive ways to teach history, geography and civics by using two- and three-dimensional art that is easily accessible on line.  CLICK HERE to see training Darci provided for the San Diego County Office of Education.
---