Most American Lives™ programs are available live and online.   More details about online programs at DarciTucker.Podia.com
All programs are designed to support educational standards for student audiences, but are equally popular with adults.  Darci offers traditional storytelling, characters from throughout American history,  artifact analysis, 18th century fashion shows, workshops on how to portray historical people, and more.  
REVOLUTIONARY WOMEN™  (4th Grade to Adult): Darci's most popular program, this one-woman, three-character interactive play explores the issues and events that led to the American Revolution. Students examine women's rights and roles in colonial America, and their contributions to Revolutionary War effort.  The program highlights the importance of active citizenship. Audience members meet and converse with three women:
Jane Walker, one of thousands of wives who accompanied the army doing support work (fictitious composite character)
Elizabeth Thompson, a loyalist spy (actual person)
Deborah Samson, who disguised herself as a man, enlisted and fought for 1.5 years before she was discovered (actual person)
Revolutionary Women™ can be booked as a half-day or whole-day program, and the whole-day program can include the opportunity for students to model 18th-century-style clothing.
Watch a clip from Revolutionary Women.   Read about the program in a California newspaper.   Listen to a Colonial Williamsburg podcast about the program (please note that although the podcast refers to performances at Colonial Williamsburg, this program is the property of American Lives: History Brought to Life™ and can only be booked through American Lives).
"I would pay money to see this! (I don't have to, but I would.) Seriously, y'all…see Darci's Revolutionary Women.  It's amazing!"   Andy Offutt Irwin, nationally acclaimed storyteller and humorist
"I liked the story you told us about James and how he was a double agent.  It was so cool!  I will never forget that story.  NEVER!  I also think it was cool that you played 3 different people.  You should be on different movies.  You are a very good actor."  Rahul, 5th Grader, North Hollywood, CA
"I loved all the cool stuff you taught us yesterday. I listened and stared at you the whole way through. I didn't miss a single word or take a single eye off you either (until you went behind the curtains and music started, and when it did, I thought about what I just saw instead of talking to friends)."     Charles, 5th Grader, Charles Hoffman Elementary, Running Springs, CA
"I hate to admit it, but that was really kind of awesome."   Josh, 8th grader, Ezel-Harding Christian School, Nashville, TN
HISTORICAL CHARACTERS (4th Grade to Adult):  Meet a person from America's past. Characters can appear individually or in groups.  If you don't see the one you need, email Darci at darci@americanlives.net.
1730s:  Sarah Spicer, housewife in Cape May, New Jersey
1750s:  Elizabeth Spriggs, indentured servant in Maryland
1760s

:  

Eliza Lucas Pinckney, who, as a teenager, established indigo production in South Carolina, and went on to mother patriots Charles and Thomas Pinckney
1770s:  The three women described above in Revolutionary Women can appear individually 
1770s:   Catherine Rathell, milliner (fashion boutique owner) in Virginia and Maryland
1770s

:  

Frances Tasker Carter

, wife of a member of the Royal Governor's Council in Virginia

1811:     Ann Hill, wife of a merchant-sailor who was "pressed" into the British Navy
1860:   Dorothea Dix, mental health care reformer
1863:   Civil War Women: meet Union wife Alice Grierson and Confederate wife Cornelia McDonald to compare the perspectives of both sides.  You may also meet each woman alone. 
1870s:  Life with the Buffalo Soldiers.  Meet Alice Grierson, whose husband was a Union Cavalry hero, and commanded the 10th Cavalry (African-American) "Buffalo Soldiers" in Oklahoma and Texas after the war.
1920:    Harriott Stanton Blatch, suffragist and daughter of Elizabeth Cady Stanton
1928:   A Heart in the Air:

Meet

Amelia Earhart, aviation pioneer.    

CLICK HERE

to see part of an interview with Miss Earhart.
"You have an incredible presence on stage, both as teacher and storyteller. I found your history lesson before the show enjoyable and informative, and loved how you involved (and handled) the children. Your piece is so well written, and your performance of it so skillfull. I was amazed at how rapt you held all of us, kids and adults alike."     Antonio Sacre, storyteller, solo performer, author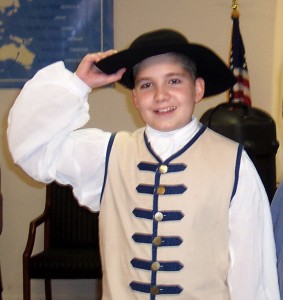 DRESS FOR SUCCESS (4th Grade to Adult):  Participants examine 18th century fashion, fabrics and trendsetters.  They learn about how fashion reflected social status, and, in the live version, participate in a fashion show of 18th century styles. 
THAT'S MY STORY (Grades K to Adult): Listen, spellbound.  Let your imagination roam.  Darci can tailor programs to your needs, whether you need to meet Common Core Standards or just want to relax and laugh.  She tells Shakespeare stories, fairy tales, folk tales from many cultures, personal stories about growing up, ghost stories and more.
"The children and adults were thoroughly engaged, entertained, inspired [by your storytelling program]…"        Liz Ratcliffe, parent
SHALL WE DANCE? (4th Grade to Adult, available for live audiences only): Explore colonial Virginians' passion for dancing and learn the importance of music, dance and deportment skills in 18th century Virginia.  By comparing European and African music and dance, discover traces of both in today's culture.
"Darci is engaging, informative and tremendous fun!"         Lisa Scruggs, Tea Consultant and Artisan, owner of Infuse Me! LLC
NOW AND THEN (Grades K-3, available for live audiences only): Aimed at very young students, this program compares the 18th century world with the present. Young students handle artifacts of both eras and draw their own conclusions about how life has changed.
"You're an awesome presenter and know exactly how to keep the attention of those kids… I was impressed!!"                  Paula Bodor, parent
For more information, email Darci!